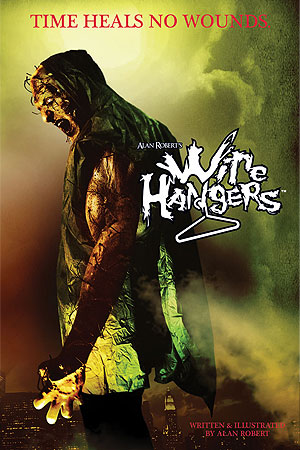 BUY WIRE HANGERS COMICS & GRAPHIC NOVEL HERE >
WIRE HANGERS CURRENTLY BEING ADAPTED INTO A FEATURE FILM! >
WIRE HANGERS WINS the 2010 COVER OF THE YEAR AWARD from ComicMonsters.com!
Check out Alan Robert's new horror series CRAWL TO ME!
"WIRE HANGERS is the latest "GN" [Graphic Novel] to fall into my hands, and by far one of the best I have read in a while... Robert has just as much talent in the realm of comics as he does in music, and with that kind of quality, he has a bright and long future in the business." - LEXINGTON MUSIC PRESS
Click Here for the full WIRE HANGERS review >
FANGORIA RATING: 3.5 out of 4 SKULLS!: "The story in WIRE HANGERS explores new territory in the serial killer subgenre, brought to stunning life with bold, experimental art. Blending traditional pen-and-ink with more modern digital techniques, WIRE HANGERS delivers mood, atmosphere and rich texture to both the art and story." - FANGORIA
Click Here for the full WIRE HANGERS review >
In 2010, Life of Agony bassist/Spoiler NYC front man, Alan Robert, joined forces with IDW Publishing to release his horror/conspiracy graphic novel Wire Hangers. The collected series (issues 1-4) was created, written and illustrated by Robert. The book is IN STORES NOW. Horror fans should be excited about the cover (designed by Sam Shearon), which features slasher fan-favorite, Nick Principe (Laid to Rest's Chrome Skull) in full make-up as Wire Hangers anti-hero, Cypra. Hollywood's master creature designer, Robert Hall and his Almost Human SFX studio provided the Cypra costume design. Robert Hall's work has appeared in such popular films as Devil, Paranormal Activity 2 and The Crazies. The graphic novel also features an introduction written by legendary comic artist, Michael J. Zeck (The Punisher Limited Series) as well as an in-depth, exclusive interview with Wire Hangers creator, Alan Robert, by A Comic Book Orange's Casey McKinnon.
Robert is no stranger to comics. He studied cartooning under Walter Simonson (The Mighty Thor) at the School of Visual Arts in New York City, where he attended on scholarship and graduated with a Bachelor of Fine Arts. Best known for being the primary songwriter behind Life of Agony's critically acclaimed River Runs Red concept album, Robert is also an accomplished artist. His illustrations and designs have appeared on merchandise, ad campaigns and Web sites for multi-platinum rock acts such as 3 Doors Down, Puddle of Mudd and Shinedown.
In Wire Hangers, a series of abductions plagues New York City and no one is safe. When Anna Davis, a feisty young reporter, goes undercover to try and snag the big exclusive, she stumbles upon clues that give us a glimpse into what could be the most disturbing government conspiracy of our time. Pill-popping detectives, corrupt secret agents and a mysterious, disfigured homeless man are all inter-connected in this horrific tale of revenge and redemption.
Robert states, "I've wanted to tell this story for as long as I can remember. I came up with the Wire Hangers concept a few years back, when Life of Agony was on the road supporting Ozzy Osbourne. It has haunted me ever since. Whenever we were touring or in the recording studio, I would find myself sketching out characters on the back of lyric sheets and leaving voicemail messages for myself with scene dialogue. By the time I presented the idea to IDW earlier this year, the story was completely fleshed out. Visually, it's dark and gritty with tons of textures and atmosphere. The artwork really sets a tone for the series and plays an equal part in telling the story.
"I really can't express how excited I am to finally see this idea come to life. I've been a huge comic book fan since I was just a kid and I went to art college in the hopes of becoming a penciler one day. During my graduation year, my band LOA landed a record contract with Roadrunner Records to record our debut album, River Runs Red. Once it came out, I found myself touring full-time and focusing on my music career. So, for me, all these years later - to finally create my own original comic series is a dream come true and releasing it through IDW is icing on the cake. IDW has published some of my favorite comics, like 30 Days of Night and Welcome to Hoxford. It's a real honor to have Wire Hangers appear alongside those titles."
"Wire Hangers is going to hold its own up against the IDW titles that Alan has long admired," said Chris Ryall, IDW's Publisher/Editor-in-Chief. "When he brought me the story, both his storytelling sense and artistic skills were fully formed and ready to roll on a comic series. In much the same way Alan went from playing bass for one band to fronting another, his talents will be front and center on his comic, too."
BUY WIRE HANGERS COMICS HERE >

About Alan Robert
Alan Robert is currently recording a new Spoiler NYC album titled "Banned in 38 States" with Grammy Award winning producer Ken Lewis (Lenny Kravitz, Beastie Boys, Fall Out Boy). The album will be the sophomore release for the NY based punk-trio, following their 2007 debut, "Grease Fire in Hell's Kitchen" (SOS Records/I Scream Records).
Robert's other band Life of Agony, recently celebrated their 20 year anniversary with a successful European tour where they performed in front of crowds as large as 500,000 people in Poland. A double-disc set entitled "20 Years Strong: River Runs Red - Live in Brussels" is in stores, worldwide, through I Scream Records. The CD/DVD package features performance footage, interviews, backstage antics and a look at Robert's art process for Wire Hangers. Information on Robert and his bands can be found at LifeOfAgony.com and SpoilerNYC.com.
About IDW
IDW is an award-winning publisher of comic books, graphic novels and trade paperbacks, based in San Diego, California. Renown for its diverse catalog of licensed and independent titles, IDW publishes some of the most successful and popular titles in the industry, including: Hasbro's The Transformers and G.I. JOE, Paramount's Star Trek; Fox's Angel; the BBC's Doctor Who; and television's #1 prime time series CBS' CSI: Crime Scene Investigation. IDW is also home to the Library of American Comics imprint, which publishes classic comic reprints; Yoe! Books, a partnership with Yoe! Studios; and is the print publisher for ComicMix.
IDW's original horror series, 30 Days of Night, was launched as a major motion picture in October 2007 by Sony Pictures and was the #1 film in its first week of release. More information about the company can be found at IDWPublishing.com.
Check out all three parts of the exclusive FANGORIA video interview, right here: